The 1,001 Flavours Brunch at Ewaan
Palace Downtown
Ewaan means "King's throne" in Arabic, which sets the tone for this thoroughly regal brunch. You can expect relaxed live music, along with a well-heeled crowd. If you choose to sit outside you won't be disappointed, all tables have incredible views of the Palace gardens, pool and the Burj Khalifa. The service at Ewaan is impeccable, with staff paying enough attention to each table without being overbearing.
The restaurant is known for serving up fine dining Arabic dishes during the week, but its "1001 flavours brunch" (a play on the Arabian Nights original title) exceeds this, offering several different international cuisines. There's lavish, overflowing live food stations offering up everything from pan-fried foie gras, fresh Fine de Claire oysters, to an entire tuna fish being carved up by a chef in the centre of the restaurant. Elsewhere, there's an Asian corner serving up delicious fresh tempura, dim sum and duck pancakes, a carving station, and an outdoor BBQ, where a chef cooks-toorder beef tenderloin, rib eye steak and Omani lobster. Be sure to save room for dessert too, there's an infinite collection of delectable Arabic and international cakes and patisseries, alongside a well-picked range of 15 gourmet cheeses on offer to finish the meal.
Afterwards, treat yourself to a selection of 2 for 1 premium beverages amidst the chic yet intimate ambience of FAI, which stays open post brunch and ensures the celebratory spirit continues well into the evening.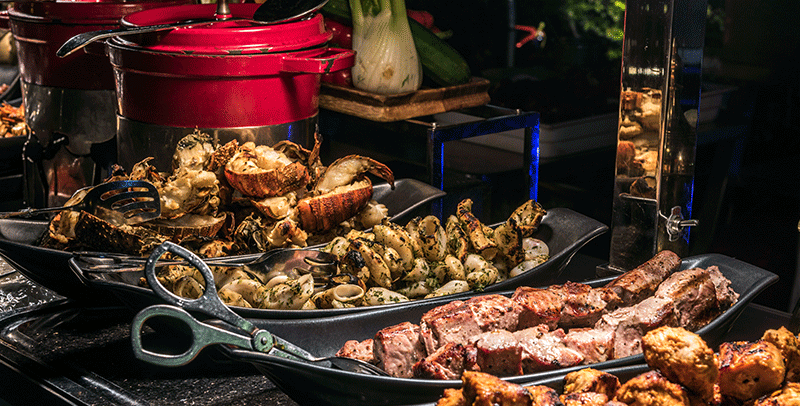 Enjoy a spread of traditional Arabic specialties and Continental cuisine with live cooking stations.
NEED TO KNOW
Tel: +971 4 888 3444
addresshotels.com
dine@emaar.com

TIMES
Friday 1pm to 4.30pm. Happy Hour at FAI from 4pm to 6pm.

PRICES
Detox Brunch: Dhs325 per person - A range of healthy detox beverages high in antioxidants as well as freshly squeezed juices, water, coffee and tea

Premium Brunch: Dhs480 per person - A selection of premium grape beverages and ports as well as freshly squeezed juices, water, coffee and tea

Luxurious Brunch: Dhs695 per person - An exquisite selection of premium grape beverages and free flowing bubbly, as well as freshly squeezed juices, water, coffee and tea