Friday Family Brunch at Al Bahou
Movenpick Hotel, Ibn Battuta Gate
A stunning Arabian setting
You can feel the magic of '1,001 Arabian Nights' when you visit Al Bahou. The restaurant's name means 'the grand hall' in Arabic. There are 88 atmospheric lanterns suspended from the high imposing ceiling. With its authentic Arabic flair, the restaurant reflects the travels of Ibn Battuta. This central, ground floor venue plays host to Movenpick Ibn Battuta's famous Friday Family Brunch.
The perfect brunch for all the family
This fully inclusive dining extravaganza is a lavish way to celebrate Fridays with the whole family. It caters for people of all ages who are looking to experience a unique culinary journey under the impressive 88 magical Middle Eastern lanterns in the grand hall. The Al Bahou Friday Family Brunch offers an extensive variety of culinary showcases and live cooking stations where five of the hotel's main restaurants Shanghai Chic, Chor Bazaar, Sicilia, Mistral and Moroc Lounge & Bar all contribute to the Friday brunch, resulting in over a dozen live cooking stations that feature Chinese, Indian, Italian, Arabic and North African cuisine, interspersed with classic international dishes. The culinary showcase also features an exclusive children's buffet spread with a selection of inventive and colourful dishes that are fresh, nutritious and composed of carefully selected ingredients. The Al Bahou brunch is a great choice for families as various fun-filled activities are staged for children. With the sounds of live music to keep everyone entertained, there is also a giant jumping castle, indoor cinema, separate kids' buffet and access to the Little Birds Club for our younger guests to allow parents to fully enjoy the Brunch.
Chef profile:
Chef Nachwan Koukach

This young, enthusiastic Chef was born in Al Swida, Syria. Like many professional chefs, Nachwan's love of food was fostered during his childhood. At the age of 12, his father took him to his butcher's shop to teach him the family trade. He would wake up in the morning waiting for his father to go to the butcher's shop to start the day and by night, he would help his mother in the kitchen. His love for butchering and food preparation at such a young age pushed his enthusiasm and willingness to further drive his passion towards a culinary career path. A selfconfessed perfectionist, he enrolled at a culinary school in Syria to develop his skills and was given the opportunity to enhance his artistry by being selected to attend butchery training in Lebanon. Chef Nachwan moved to Dubai in 2013 to start building his culinary career in a city he knew he would have the opportunity to develop in. Having worked with several different major hotel groups, he further developed his skills and climbed the culinary ladder very quickly due to his abilities. Chef Nachwan has won several awards for his outstanding performance and has been part of the Mövenpick Hotel Ibn Battuta Gate since its pre-opening stage. The ambitious, hardworking Chef has always aimed high and already achieved what many chefs strive to accomplish in a lifetime, and he has no signs of stopping.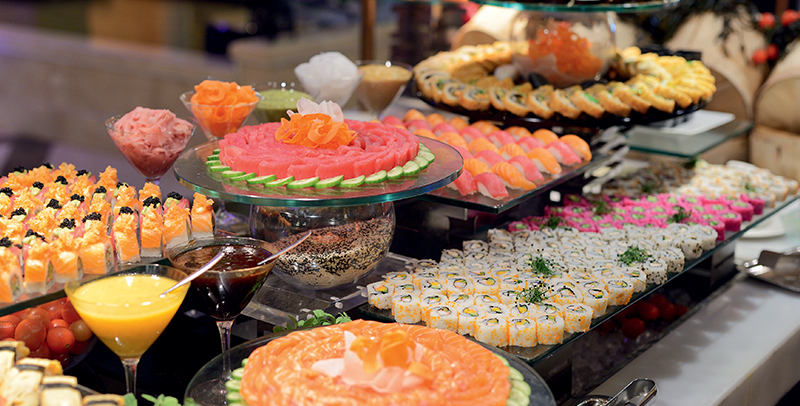 It caters for people of all ages who are looking to experience a unique culinary journey under the impressive 88 magical Middle Eastern lanterns in the grand hall.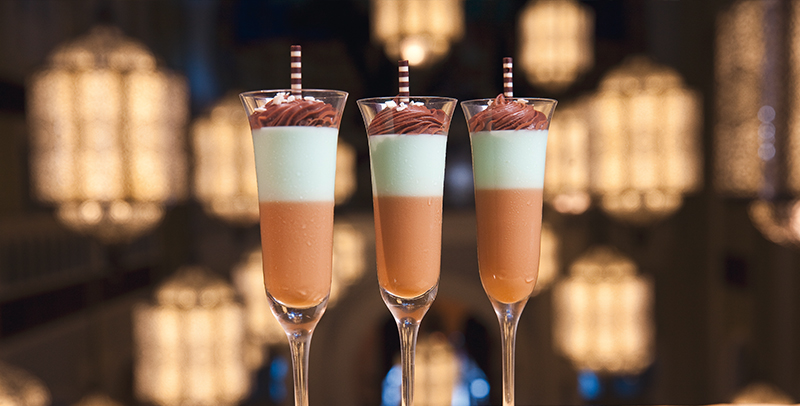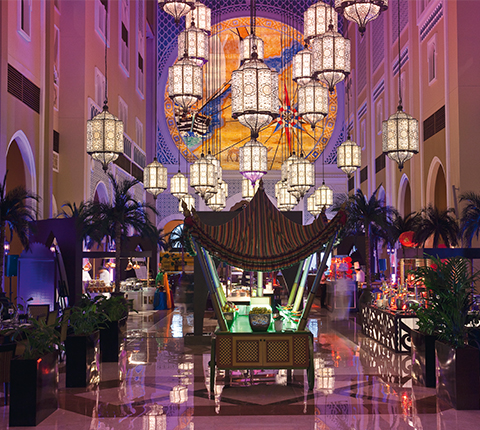 NEED TO KNOW
Al Bahou, Movenpick Hotel, Ibn Battuta Gate
Tel: 04 444 5613
dine.ibnbattuta@movenpick.com

TIMES
12.30pm until 4.00pm every Friday

PRICES
AED 325 Soft beverages
AED 425 House beverages
AED 599 Premium beverages
Children 7-12 years-old receive 50% discount.
Children aged 6-years-old and under eat free.