Melia Dubai
Kuwait Street, Dubai
HUMMUS KI GILAWAT
INGREDIENTS
100g Chickpeas
1g Bay leaves
4g Green cardamom
4g Black cardamom
3 stick Cinnamon stick
1g Cloves
30g Brown onion paste
30g Brown cashew nut paste
1g Mace powder
1g Green cardamom powder
5g Tahini

5ml Rose water
5ml Kewara water
100ml clarified butter
2 tablespoons gram
flour (besan)
1/2 teaspoon Cumin
(Jeera) powder
1 inch Ginger, grated
5 sprig Coriander (Dhania)
leaves, finely chopped.
FOR GARNISH
3pcs – Baby carrot
Sakura Mix
1. For the chickpeas gilawat, soak chickpeas for at least 8 hours and boil along with salt and whole spices (make a bouquet garni) until very soft. Drain excess water completely
2. Mince the chickpeas well and add brown onion and roasted cashew nut paste along with rose and kewara water. Add freshly chop coriander and grated ginger.
3. Transfer the mixture to a bowl and rub until the texture gets smooth. Now add tahini, salt and other powder spices. 4. For binding add roasted gram flour. 5. Smoke the mixture with a burning charcoal along with clove. Add clarified butter to produce smoke and cover the mixture. 6. Divide the mixture into 3 equal portions. Shape the portions into round circular pattice. 7. Now preheat a pan and grease it with clarified butter. Pan fry the pattice on both sides until crispy and brown. 8. Garnish with sakura mix and grilled baby carrot.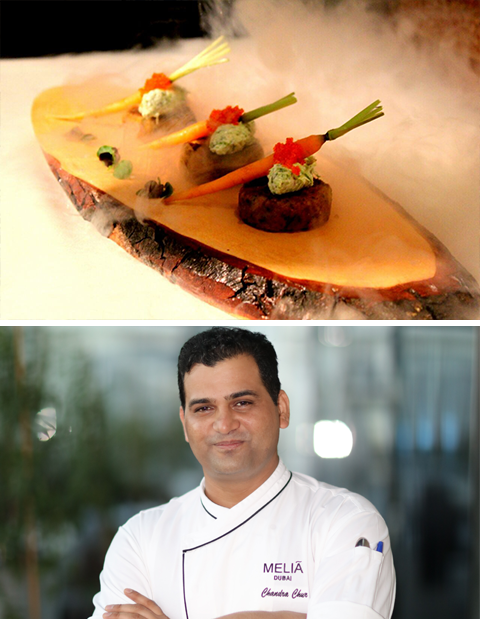 Chef Profile
Chef Chandrachur Chamoli
Chef de cuisine Chandrachur Chamoli started as a trainee in 2002 Hotel Oberoi's Delhi in India then moved to JW Marriott Hotel in Mumbai. He later acquired the position of chef de partie in Lalit Ashok, a very famous restaurant serving authentic Indian Cuisine. After working for few years in Bangalore he took over as a kitchen executive in Ananda in the Himalayas, looking over the Indian kitchens in the hotel. He also served famous personalities like Prince Charles, the Indian Prime Minister and many more Bollywood and Hollywood Celebrities and was always appreciated for his cooking.
His interest to explore never ended and thus he took over as chef de cuisine of prestigious Signature By Sanjeev Kapoor at Meliá Hotel Dubai with the world-famous celebrity chef, tycoon of Indian cuisine chef Sanjeev Kapoor and is also gaining appreciation for the restaurant not only in Dubai but all the UAE.