Kempinski Mall of the Emirates
Olea Restaurant
SHEIKH EL MAHSHI
By Chef Sudqi Serves 5 Ingredients 15 pieces of zucchini, 70g per piece 450g lamb shoulder, minced 50g lamb fat, minced 100g onion, chopped 60g garlic, chopped 40g pine nuts, roasted 100ml olive oil
Method for the Zucchini: 1. In a medium heated pan, add the lamb fat and 20 ml of the olive oil till hot then add the lamb fat until melting, then sauté the onion till soft, add the garlic and cook for 10 minutes. Add the minced lamb and cook for 20 minutes then add the spices and pine nuts and remove 2. Once cooled, fill the zucchinis with the minced lamb mixture 3. In a separate sauce pan add the remaining olive oil and fry the zucchinis till golden brown and set them a side
Method for yogurt sauce: 1. Pour the yogurt and egg in a pot and place in a medium heated pan for 10 minutes. Once the yogurt reached 60C add the chicken stock and bring to the boil. Reduce the heat and add the corn starch, salt and black pepper and keeping stirring until the mixture becomes think, then remove from the stove. In a separate pan add the olive oil and chopped garlic and stir until golden brown. Add the chopped mint leafs and remove from the stove. Pour over the top of the yogurt.
Method for finishing the plate: 2. Place the zucchinis inside the yoghurt sauce and cook all together for 15 minutes on a low heat to make sure the filling does not fall out of the zucchinis, the dish is ready once the zucchinis are soft and tender 3. Place them on plate and garnish with saffron leaves, pine nuts olive oil and mini cress leaves.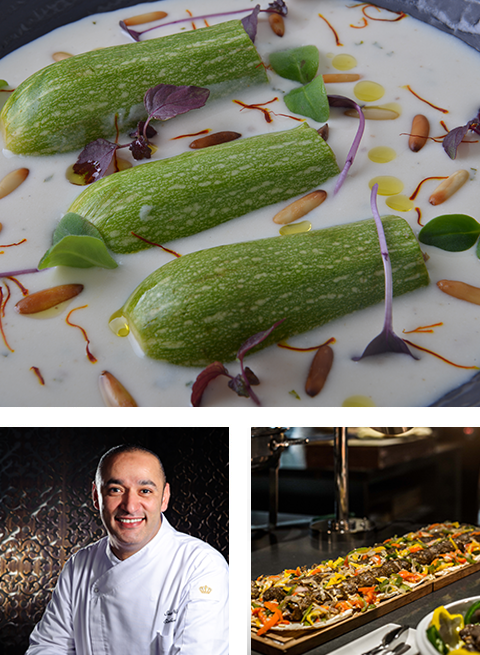 Need to know
Prices
From only AED 210 per person, get together with loved ones over a delicious Ramadan buffet prepared in true Levantine style, in Olea restaurant and exquisite Marquee. Enjoy a delicious variety of hot and cold mezzah and main dishes including beef oyster, chicken maqlooba, lamb okra, lamb mansaf, veal osso bucco, shrimp mutaffa and much more. Quench your thirst with traditional Ramadan juices such as amareddin, jallab, laban ayran, mint lemonade and ward. For diners who wish to pamper themselves and their families, book an exclusive Ramadan experience, with a private Chef in one of the stunning Aspen Ski Chalets for only AED 650 per person.