The Meydan Hotel
Meydan Racecourse
The venue
Visitors to The Meydan Hotel will not worry about traffic or parking, as this exclusive venue offers more than 6,000 parking areas, complimentary valet parking at a strategic location only 12 minutes from Dubai Mall and away from Dubai traffic that rises with the countdown to the Iftar timing.
The Meydan Hotel awaits all guests with a welcoming Arabic hospitality presenting an authentic lavish atmosphere with exclusive Ramadan traditional decorations and Ramadan lanterns together with live Oud tunes and a supervised children's entertainment area with face painting, drawing, arts & crafts, balloon twisting, family movies, PlayStation games and bouncy castle, making it a special evening for family and friends.
The food
The extravagant buffet includes everything from authentic Emirati dishes, traditional Egyptian and Moroccan bites, local Syrian and Lebanese delicacies to international savoury selections from various cuisines including Japanese, Chinese, Indian, Italian as well as European cuisines.
Explore Emirati cuisine and try 'lamb foga' and 'harees', or sample Egyptian cuisine with 'mulukhya' or 'fatah masreya'. People curious to explore the Moroccan cuisine are invited to taste its 'lamb tajeen' or famous 'cous cous', or venture to India with 'chicken biryani' and 'butter chicken' or sample international dishes like 'grilled lamb chops' and 'grilled salmon'.
Vegetarian foodies have their own special dishes from different cuisines including Italian pasta, Egyptian 'koshary', Indian 'dal makkhni' or Syrian 'veggie mussakaa' and Middle Eastern 'lentil soup'. Furthermore, this year's Ramadan buffet presents to its guests six interactive cooking stations including Lebanese authentic manakeesh-baking, Chinese live wok, live Japanese Sushi counter as well as famous Emirati 'lamb ouzi'. After enjoying the extensive Ramadan feast, it's time to taste a wide selection of pastry masterpieces, including the likes of dates pudding, Umm Ali, cheese kunafa as well as dark chocolate cake, and fruits tarts.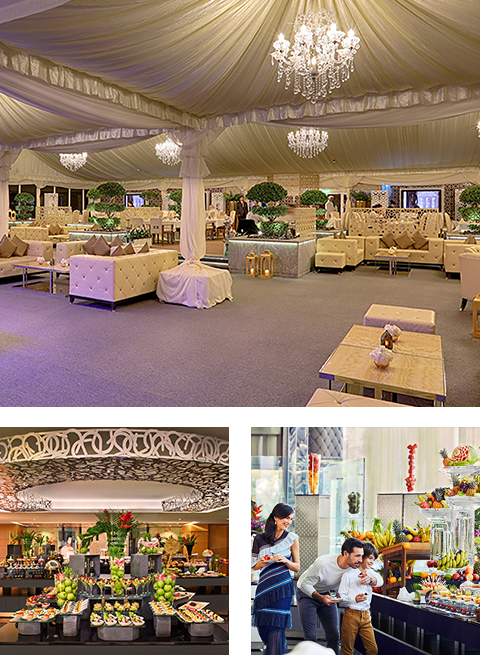 Need to know
Times
Daily Iftar buffet is available throughout the month of Ramadan from sunset to 9pm. Daily à la carte Sohour menu is available throughout the month of Ramadan from 9.30pm to 2am (Sunday to Wednesday) and from 9.30pm to 3.00am (Thursday to Saturday).
Prices
Iftar, for the first 10 days of Ramadan is priced at AED 175 per person (including food, Ramadan juices, soft drinks and still water – inclusive 5% VAT) and from 11th day of Ramadan until the end of the holy month at AED 199 per person (including food, Ramadan juices, soft drinks and still water – inclusive 5% VAT). Children below 4 years enjoy complimentary Iftar. Children aged 5 up to 12 years old enjoy Iftar at AED 99 per child. Suhour is available with a minimum F&B spend of AED 100 per person.