Rixos Premium Dubai
Jumeirah Beach Residence
Embracing the cultural crossroads of Turkey, Turquoise Restaurant has launched the "Rixos Premium Dubai Istanbul Nights", a weekly celebration of Turkish music, drinks, and food packed with entertainment, pop-up bars and poolside refreshment. From Izmir to Istanbul, Çorum to Çorlu, and Ankara to Dubai, there's nothing quite like some Anatolian xhilaration to begin a great weekend at Rixos Premium Dubai.
The event
Every Thursday evening, fill up on great food, plenty of traditional and mixed drinks, and dancing to contemporary beats at Rixos Premium Dubai's Istanbul Nights. With a live band on stage followed by a DJ and belly dancers, there's no shortage of evening entertainment. Our exclusive live food stations serve the tastes of Turkey. Come and party at the crossroads of Europe and Turquoise Restaurant terrace, and don't forget to clink the bottom of your glass before that Raki touches your lips! The stage is set at Turquoise Terrace, for you and your loved ones to take a trip to Turkey, where you'll dine and dance all night long at Rixos Premium Dubai's Istanbul Nights.
The hotel
Rixos Premium Dubai hotel located at the heart of Dubai's Jumeirah Beach Residence is redefining the core of luxuriant hospitality by marrying entertainment, leisure, dining, hospitality and relaxation. With panoramic room views overlooking the beach and the world's largest Ferris Wheel, The Dubai Eye, the 35-storey lifestyle hotel welcomes its guests from all around the world to stay at the exotic haven where the pulse of the city can be best felt.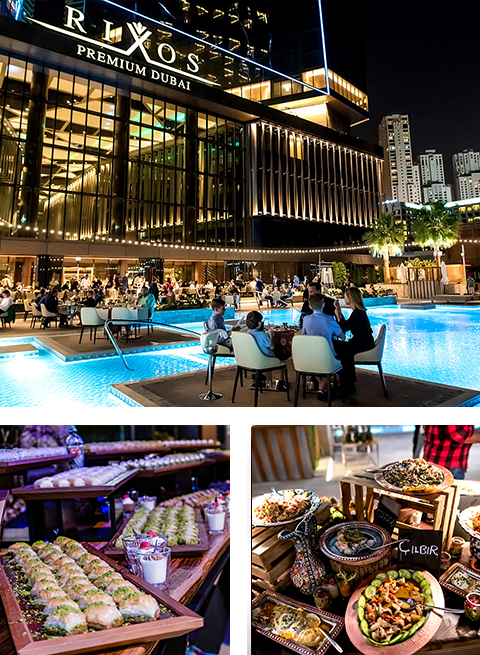 Need to know
Times
Every Thursday from 7.30pm
Prices
AED249 per person for soft drinks package (inclusive and Raki upon arrival)AED349 per person for house beverage package Entertainment: Live DJ, Live Band, Belly Dancers and much more!