GALERIES LAFAYETTE LE GOURMET
City Walk, The Dubai Mall, The Outlet Village
"I love the idea of family-style dining, bringing family and friends together around the table to share some home-cooked dishes. It's something that perhaps we don't do enough of or have the time for. The holy month of Ramadan is the perfect time to slow down and reflect on what's important. With our Iftar menus; we are aiming to do just that: enable you to spend time around the table with your loved ones enjoying incredible, authentic dishes", says chef Russell Impiazzi, culinary director at Le Gourmet.
Throughout Ramadan, the specialty grocery of Le Gourmet - City Walk turns into a true Moroccan souk - featuring a variety of pickles, olives, olive oils, spices and more, perfect for gifting.
Allowing you to recreate traditional Moroccan dishes, every Sunday during Ramadan from 5pm until after Iftar, chef Hanane will be teaching recipes on the Iftar Menu at Table Talk for AED350 per person. At Table Talk, from April 29th to August 31st, you'll also find Mawaheb artists' work being exhibited and sold.
Iftar at Le Gourmet
During Ramadan, Galeries Lafayette Le Gourmet at City Walk is bringing Morocco to your table, offering a set menu featuring traditional dishes. The restaurant will also serve à-la-carte options featuring six international cuisines from L'Asian, L'Italien, L'Indien, Le Café, Le Sushi and Le Grill, and Iftar delivery.
Meanwhile at Galeries Lafayette Le Gourmet, Dubai Mall, you'll find a multi-kitchen experience on offer, featuring everything from bespoke salads, Arabian grills, Moroccan delicacies to classic Ouzi, completed with the tastes and flavours from all of eight kitchens. The specialty desserts are also not to be missed.
If you'd like to enjoy Iftar from the comfort of your own home, Galeries Lafayette Le Gourmet Events & Catering delivers a selection of menu items for an exceptional Iftar at home.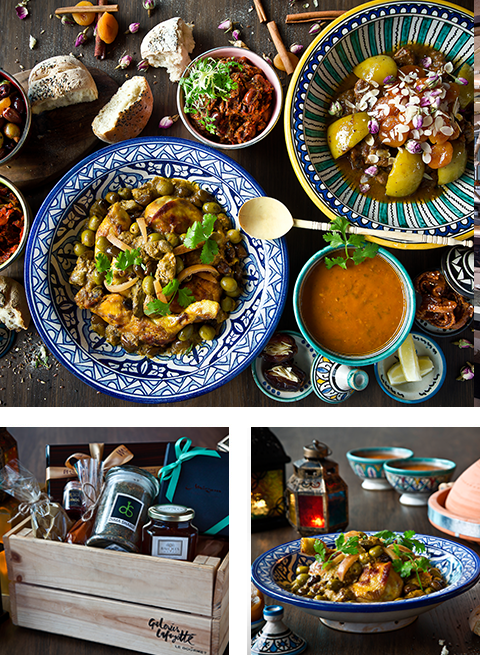 Need to know
Prices
City WalkIftar menu: AED 125 per adultRamadan opening hours: 8am onwards (dine-in, takeaway and delivery) Tel: +971 4 403 3033
The Dubai Mall Iftar buffet: AED 165 per adult | AED 85 per child (7-12 y/o) Ramadan opening hours: 10am onwards (takeaway and delivery) | dine-in from sunset onwards Tel: +971 4 339 9933 ext. 2394
The Outlet VillageIftar menu: AED 65 per adult Ramadan opening hours: from sunset onwards (dine-in, takeaway and delivery) Tel: +971 4 339 9933 ext. 2997