Bab al shams Desert Resort & Spa
Dubai Desert
Celebrate with your loved ones this Ramadan at Al Hadheerah outdoor desert restaurant, which has been transformed into a luxurious fully air-conditioned tent at the award-winning Bab Al Shams Desert Resort & Spa, and explore the '1001 Arabian Nights' authentic Iftar experience, with a lavish buffet and a special live program.
The venue
Considered as one of Dubai's authentic landmarks, award-winning Al Hadheerah desert restaurant has become a dining destination of its own, recommended by Dubai residents to its guests and visitors, offering a true taste of Arabia with its exclusive location in the golden desert of Dubai. With its transformation to Al Hadheerah Ramadan tent during the holy month, this authentic experience promises a majestic Arabian journey to its visitors, offering a one-of-a-kind Ramadan celebration with its extensive culinary feast featuring more than nine live cooking stations.
The food
This exquisite Iftar buffet at Al Hadheerah Ramadan tent, created by the talented culinary team, presents mouthwatering delicacies from famous Middle Eastern and international cuisines featuring Emirati, Egyptian, Syrian and Lebanese culinary creations together with Moroccan, Omani and Iranian savory selections as well as special dishes from India and Turkey. This lavish buffet offers nine interactive cooking stations including Arabic BBQ grill, 'ouzi makmour' together with 'shawerma' and Arabic bread-baking stations. Vegetarian guests are welcome to taste selected traditional and well-known dishes including Egyptian 'koshary', 'falafel' and 'Foul mudames, Lebanese 'cheese and zatar manakeesh' and Turkish 'mixed dulma' together with a wide variety of Arabic salads that satisfy every taste. To continue this culinary feast, foodies with impeccable taste will enjoy lovingly made dessert buffet offering an Arabic and international desserts journey carefully prepared by the talented international pastry team.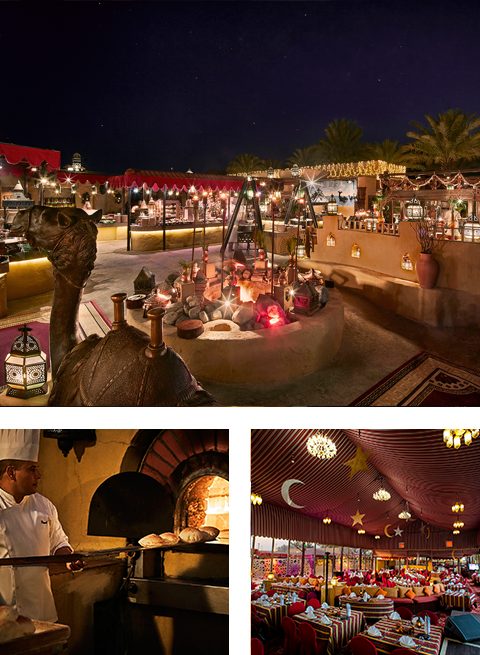 Need to know
Times
Iftar is available daily throughout the month of Ramadan from sunset to 11.30pm. Sohour is available at Al Sarab Rooftop from 8.00pm to 1.00am.
Prices
Iftar is priced at AED 265 (including food, still water, Ramadan juices, soft drinks and Arabic coffee - price inclusive VAT) from Sunday to Wednesday and at AED 295 per person (including food, still water, Ramadan juices, soft drinks and Arabic coffee – price inclusive VAT) from Thursday to Saturday. Children up to 4 years enjoy complimentary Iftar, and a 50% discount for children from 5 to 12 years old will be applied. Sohour will be charged as per the a la carte menu.