Renaissance Downtown Hotel, Dubai
Business Bay
Newly opened Renaissance Downtown Hotel, Dubai will host its first Ramadan at BHAR to celebrate continuing traditions that bring families and friends together during the Holy Month. BHAR, the Arabic word for 'spice', is designed to awaken the senses, evoking a feeling of tradition in a contemporary Middle Eastern style brasserie.
The food
Break your fast with traditional Iftar dishes such as dates, baba ghanoush, hummus and harira soup before moving to the main course that has been given Chef Mohanad Alshamali's modern twist. Highlights include the slow cooked lamb shoulder marinated in yoghurt and herbs or a grilled Chilean seabass marinated in harra sauce – both of which are an irresistible blend of flavours. Finally, give in to your sweet tooth with a choice of Umm Ali with rose water custard, chocolate katayef with walnut candied orange or mahalabiya brûlée made with camel milk, raspberry and pistachio praline. Chef Mohanad's playful twists on traditional flavours combined with BHAR's authentic service will charm guests at every turn.
Iftar-to-go
If you would like to host Iftar at your house, Gouzi to go will be a great addition to your Ramadan table. Surprise your family and guests with the addition of an unexpected treat on the table this special month with Chef Mohanad Alshamali's Gouzi, a perfectly prepared local specialty, served with an array of regional favourites
During the Holy Month, Renaissance Downtown will also offer in-room Suhoor. When you book a distinctive room package, enjoy 50% discount on the second room as well as discounted Iftar and Suhoor rates.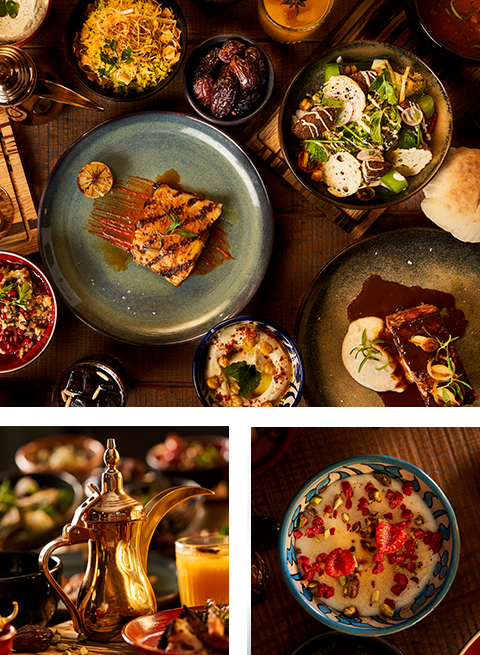 Need to know
Times
Iftar at BHAR is available from sunset until 9pm
Prices
The five-course BHAR Iftar set menu is priced AED 195 per person and includes a mezze selection, soup station, first course, main course and dessert.
Gouzi-to-go serves up to 5 people and is priced AED695 with preorder required 72 hours in advance.