AL ANDALUS RAMADAN TENT
Fairmont Bab Al Bahr
The venue
With authentic Arabian luxury and decor, guests at Al Andalus Tent will be magically immersed in the flavours of ancient Islamic culture touched with Andalusian influences. With a stunning entrance complemented by luscious materials and intricate design, the Al Andalus Tent can comfortably accommodate over 500 guests. Some amazing features include an exclusive dedicated ladies area, Majlis lounge each capable of holding up to ten people all with TV screens. Al Andalus tent is located on the Falcon Lawn on the edge of Abu Dhabi creek with breathtaking views of the Sheikh Zayed Mosque.
The food
The Iftar will feature live cooking stations including a whole lamb carving and Ouzi stations, a spectacular buffet featuring a selection of barbecued meats and seafood. Guests can indulge in the true flavours of Arabia with authentic dishes such as hot and cold Mezzeh, freshly baked Arabic bread, Manakish, succulent Shawarma rolled in Saj bread, and a selection of Arabic soups.
A dedicated Emirati cuisine station will offer local tastes including Thareed, Harees, and Machboos. Guests can sip on a selection of Ramadan drinks and Arabic coffees while choosing from a range of premium dates and Western sweets including Kunafa station and ice creams.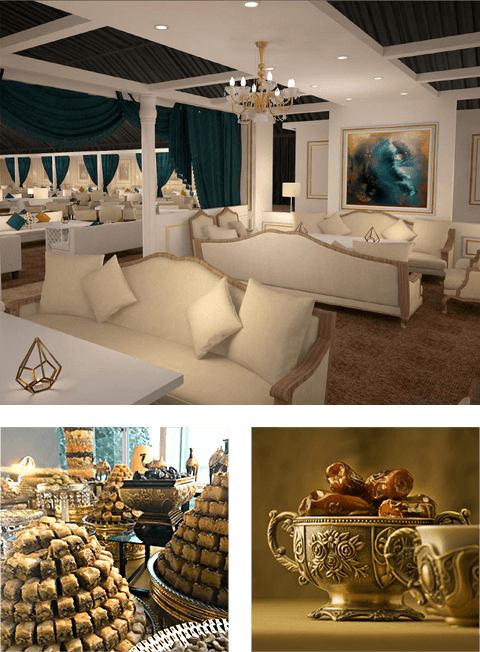 Need to know
Dhs235 per person for Iftar buffet.
Free for children 5 years and below.
Starting at Dhs45 per person for Suhoor a la carte menu.
Times
Iftar: Sunset – 9.00pm
Suhoor: 10pm – 3am (until 3.30am on weekend)

A live oud player will serenade diners throughout the evening.