THE RITZ-CARLTON, DUBAI
The Walk, JBR
The venue
Amaseena's Arabian allure finds a new expression this Ramadan, at an enchanting Majlis at The Ritz-Carlton, Dubai in the heart of Dubai Marina. Blending traditional Arabic essences with contemporary refinement, Amaseena Majlis transforms the elegant Loulou'a Ballroom into an exquisite setting that will be serving both Iftar and Suhoor during this special time of year. An intimate ambience with beautifully hung lanterns and luxury seating sets the stage for Chef Rami's culinary art.
The food
From mandi-cooked lamb, traditional favourites and delicacies flavoured with hand-roasted spices, to tagine cooked in authentic clay cookware, guests will be spoilt for choice with a lavish spread across nine food stations, highlighting the best of Middle Eastern cuisine with dishes from Morocco, Lebanon and Persia as well as international delicacies including Peruvian and Italian. Garnished with a medley of live music during Suhoor, soothing mood-lighting and memories only familiar flavours can revive, it's an experience guests will want to return to.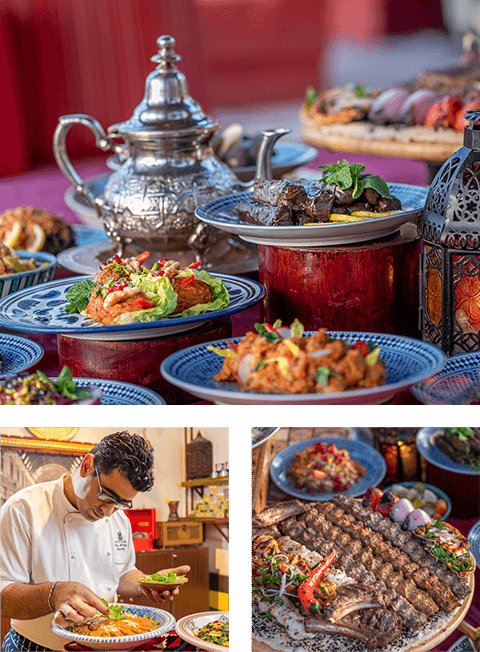 Need to know
Iftar: AED 205 per person inclusive of Ramadan juices and water
Groups of 10 or more can avail an exclusive rate starting from AED 195 per person
Children below 5 dine with our compliments, while 6 to 12 dine at 50%
Suhoor: A la carte menu, adults only
Seating capacity: 305 with a mix of lounge style seating, high tables and 5 private Majlis lounges each seating up to 10 guests.
Times
Iftar: Sunset till 8:30pm.
Suhoor: 10pm to 2am
Book now!
The Ritz-Carlton, Dubai
04 318 6150
amaseenamajlis@ritzcarlton.com
www.amaseenamajlis.com