THE ST. REGIS ABU DHABI
Iftar in the Sky, Abu Dhabi Suite
The capital's most exclusive Ramadan experience, an unparalleled Iftar in the world's highest suspended suite – situated 220 meters up in the sky, adjoining the Nation Towers. These truly memorable moments are available exclusively for up to 50 guests on Thursday, Friday and Saturday evenings throughout the Holy Month from sunset to 9.30pm. The Abu Dhabi Suite promises a special affair for families and friends to enjoy with an extensive Iftar array of exquisite, traditional Arabian delicacies, a dedicated dessert room featuring Kunafa and Atayef and Ramadan beverages, accompanied by inspiring live music. Guests can book individually or for private Iftar gatherings at Dhs320 per person.
Exquisite Iftar at The Terrace on the Corniche
Break the fast with a sumptuous Iftar buffet daily from sunset to 11pm at The Terrace on the Corniche that takes you on a culinary voyage of discovery across the region, with live cooking stations, authentic dishes and traditional flavors emblematic to the Holy Month.
Iftar buffet including Ramadan juices and water is priced at Dhs235.
Suhoor at Azura Panoramic Lounge
Azura Panoramic Lounge presents enchanting Arabian nights this Ramadan with the finest sunset views in the city, daily during the Holy Month from sunset to 3am with a la carte menu and live music. Devour the finest Arabic delicacies from a special menu including live table mix grills, sweet desserts and fresh shisha flavours in the relaxed hotspot, overlooking the stunning Abu Dhabi skyline and glistening Arabian Gulf.
Suhoor at Crystal Lounge
Combining sophistication with a light-hearted atmosphere, Crystal Lounge offers a superb Suhoor experience from an a la carte menu throughout Ramadan, daily from 9pm to 3am. Devour the finest Arabic delicacies in private curtained coves on the mezzanine floor above the Grand Staircase amidst the magnificent crystal and bronze lantern chandeliers.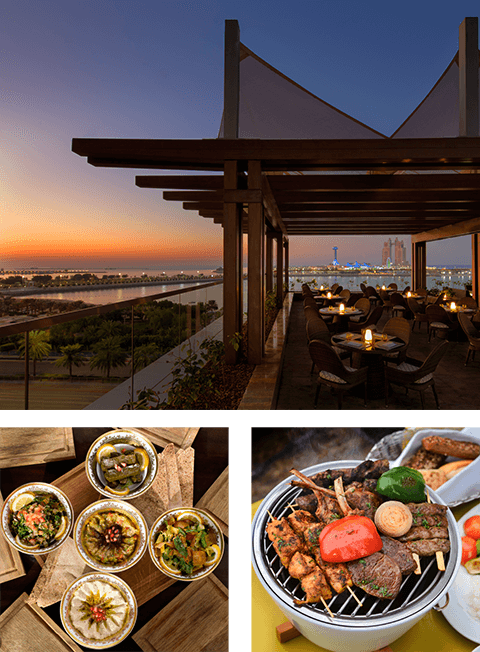 Need to know
Book now!
The St. Regis Abu Dhabi
+971 (0)2 694 4553
restaurants.abudhabi@stregis.com